Visiting Pilot Information
The advice contained within this section is for assistance only and should not at any time be used as a sole reference for flying.
1. See "Lydd Standard Approach" below – required for Lydd Airport
2. Call Lydd Approach with detail, position and requirements at or before "reporting points" on tab above. Get ATIS before calling.
3. Check appropriate AIP and AIC information as well as NOTAMs when planning a flight to Lydd.
4. Instrument approaches for training should be booked with ATC on 01797 320 881
See also:
NATS Aeronautical Information Service – http://www.nats-uk.ead-it.com/public/index.php.html a free registration is required for some services. Both NOTAMS and Narrow Route Briefs are easy to complete within that service.
Met Office weather at
http://www.metoffice.gov.uk/premium/generalaviation/#/tafsAndMetars (registration is required)
Local ATIS either well before reaching the zone on 129.230
or before your flight get ATIS on Tel: 01797 322 422.
ILS – NDB/DME on R21 and RNAV on R03 and R21 are available. Detailed approach information is available at http://www.nats-uk.ead-it.com/public/index.php.html – a free registration is required
Fuel – Avgas, Avtur at Competitive rates. Duty Free Avgas Available at Source. Contact Tel: 01797 322 400 Ext 2500.
Biggles Bar – There is always a choice of hot or cold drinks, snacks & meals for passengers and visitors to Lydd. The bar and restaurant is situated right next to the apron and offers good views of the runway and apron.
Reporting Points for Lydd EGMD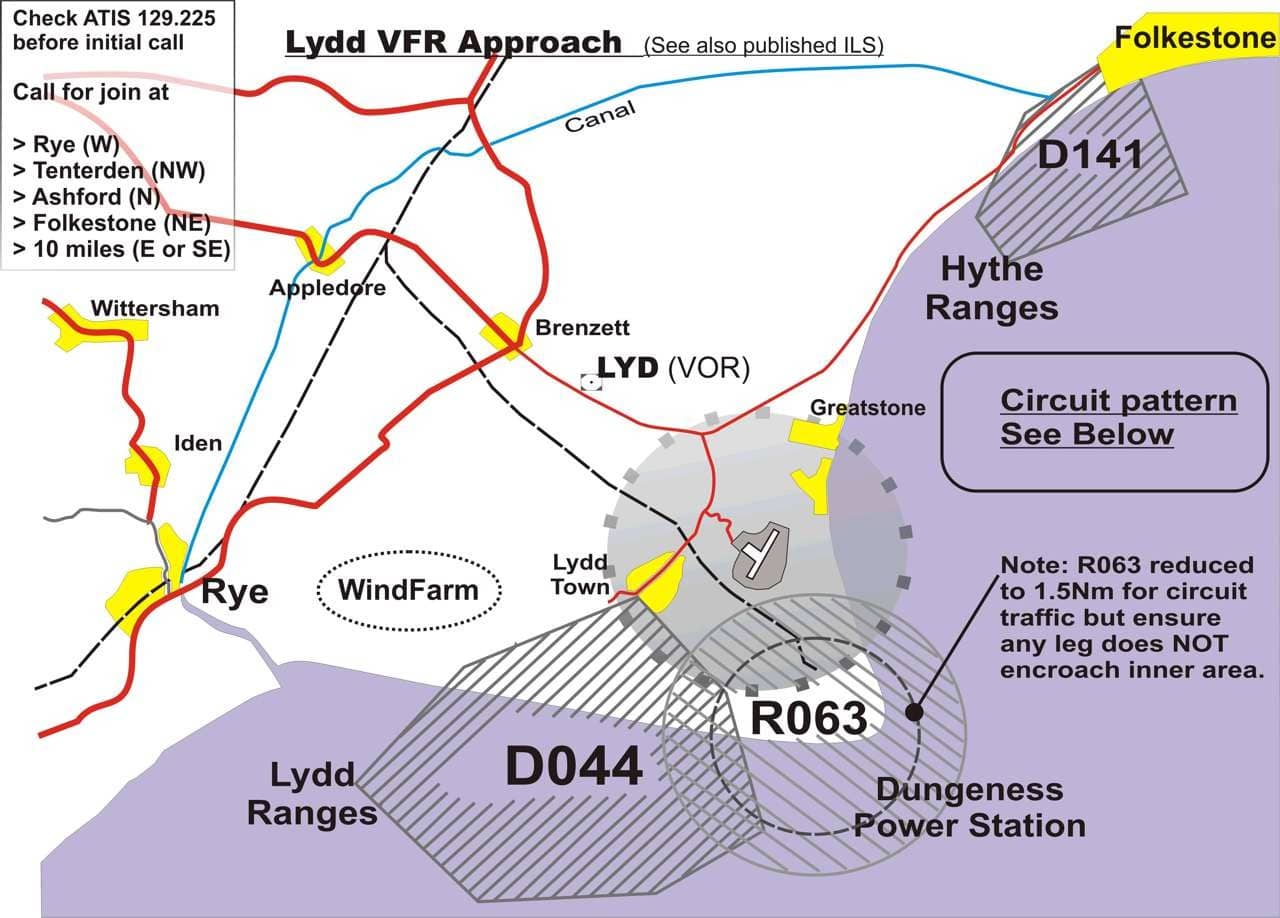 Standard overhead for Lydd EGMD