Frequently Asked Questions
After you've ordered a Lydd Aero Club Voucher (either via this web site or directly at the Club) – what happens now?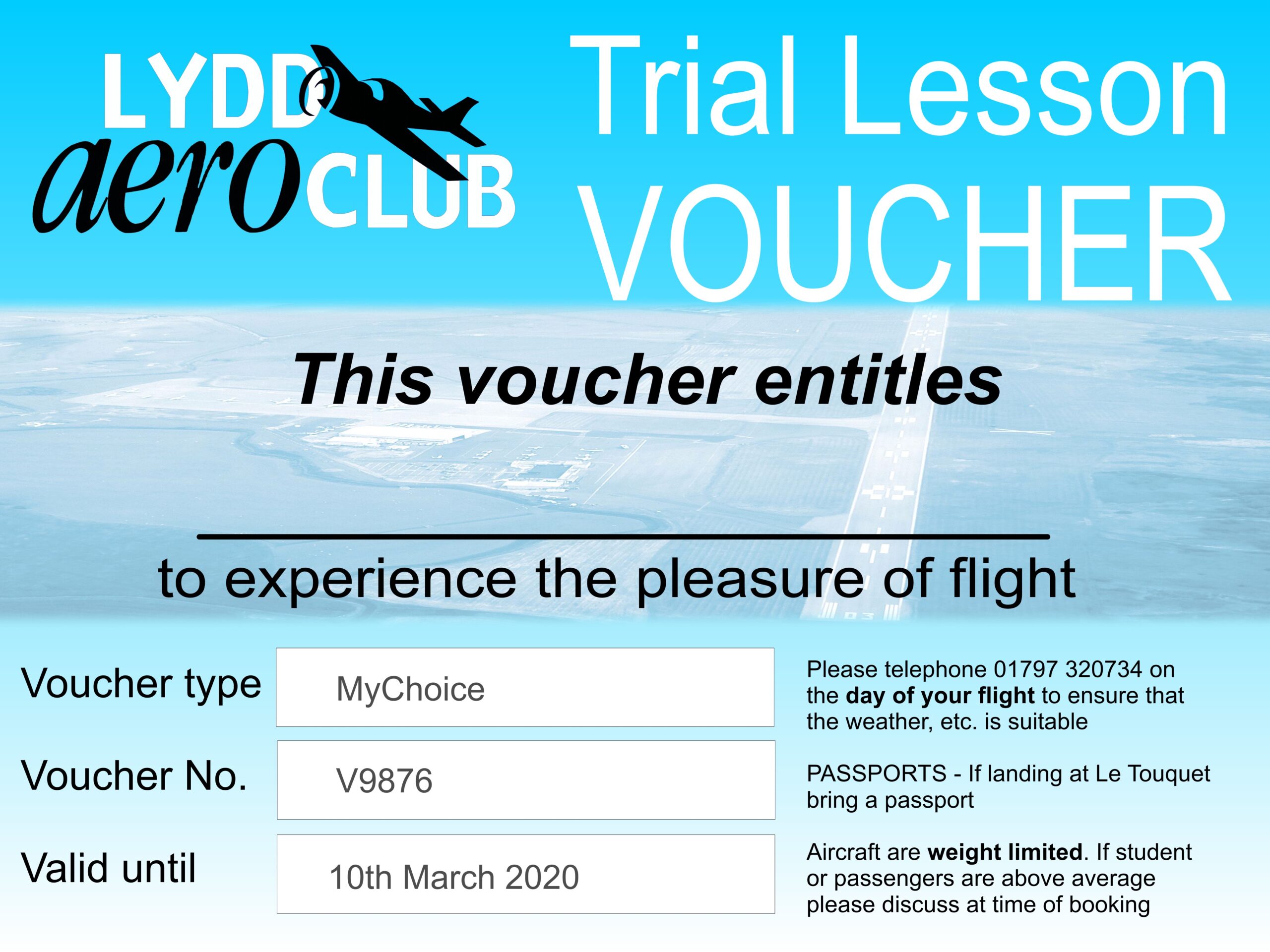 WARNING! Cheap Flying Experiences
Some other Clubs and Companies selling their own Vouchers and calling them "30 minute" or "60 minute" "lessons" do NOT give you 30 or 60 minutes in the Aircraft. Times often include lengthy briefings and you end up with a very short flight.
Our timings are all "in the aircraft"
The Voucher Process
1. A pack will be made up consisting of an advice leaflet telling the budding pilot what they can expect during their Trial Lesson, the conditions of sale, and the Voucher in the form of a card with spaces left for the recipients name and suitable message. The pack normally goes out on the day of your order by first class post.
2. Some people buy the voucher for themselves but many buy it as a gift and find the voucher card all that is needed for presentation.
3. After receiving the voucher the recipient should decide on a date and time as soon as possible thereafter to make their booking. Buying a voucher fixes the price for 6 months but it must be used before the expiry date shown on the voucher
4. On the chosen day PHONE before leaving home. Many factors may delay or postpone your flight although every effort is taken to get you into the air and enjoy your day.
5. There is usually ample parking at Lydd Airport (directions on the "Find us" page of this website). Proceed to the front entrance. Once inside, turn immediately left and follow the signs to Lydd Aero Club.
6. On welcoming you at the Club you will first be asked to "sign in" and then introduced to your Flight Instructor.
7. A briefing follows. The Flight Instructor will tailor this to the prospective pilot's requirements. Many will want to know everything with a view to obtaining a private pilot's licence and even going on to a professional career, others will be there just to enjoy the ride and the scenery during their experience day. If you are interested in any particular aspect – just ask!
8. Once in the aircraft and after a further short briefing the Instructor will undertake whichever "Lesson" has been chosen.
There are 2 Flying Schools at Lydd Airport. Follow our guide to find us from the FREE car park. In brief: enter the main entrance and turn immediately LEFT where there is a sign to Lydd Aero Club. Follow the signs through the Pilot's Entrance then into the Club. The route is well sign posted. CLICK for Further details.
Height and weight of prospective pilots is very important. If the person (or group using the 4 seat aircraft) who intends to fly are above average weight then the Instructor needs to know well in advance. Tell the Club when you book the flight. Aircraft weights can be adjusted (by reducing fuel, etc.) to accommodate most people but there are limits. If in doubt – ask!
The Club operates 7 days a week for 363 days a year so there is plenty of time to "fit it in". The main difficulty as described above is The Weather. Strong winds, poor visibility, low cloud, etc., will all affect a first flight by someone we hope will both enjoy the lesson and perhaps want to go on and get their licence to fly.
Vouchers are valid for 6 months from the date of issue and the expiry date is shown on each individual voucher.
All vouchers must be used before the expiry date. Vouchers are normally non-refundable.
Once a trial lesson is booked an appropriate aircraft and instructor will be reserved. To cover these costs any cancellations or amendments by the customer may be subject to the following charges: over 48 hours before booked flight – No Charge. 24 – 48 hours before booked flight 25% surcharge. Under 24 hours before booked flight 50% surcharge.
Lydd Aero Club may be required to cancel or re-schedule a Trail Lesson due to weather, safety or technical reasons. In such instances no cancellation charges shall apply and the Club will make every effort to re-book the flight to the customer's new requested date and time.
Something comfortable but not bulky! You will not be cold once in the plane but something thin and windproof is often a good idea when going across the tarmac. For the ladies trousers may be preferable when climbing into a light aircraft. Shoes should not be too heavy but no "flip flops" or high heels – please.
We accept valid Virgin and Acorne Vouchers
"Flying Experience Gift Vouchers". These are normally for experiences similar to our "2 seater aircraft x 30 minutes flights"
We can upgrade these vouchers to fly in 4 seater aircraft if you wanted to take a friend or two.
Please have your Serial Number, PIN code, expiry date and a contact telephone number ready when telephoning to book your flight. Your voucher must be valid (in date) at the time of the flight.
If you require an upgrade to a longer flight or aircraft (so you can take a friend) we are happy to take payments at the time of booking.
The main limitation is whether the prospective pilot can reach the controls comfortably. For the Experience flights there is no formal limit. However, if you want the flight to count towards a licence then you need to be 14 years of age or more. Those taking up flying later in life may need to consider whether they are in sufficient good health.
If the Trial Lesson "student" is under 14 year old we require a parent or authorised guardian in the aircraft. You therefore need to book a four seat aircraft so that the parent of guardian can accompany the young person in that aircraft.
Yes, you can bring a camera and use it both on the ground and in the air.
A friend or member of family accompanying you may also be able to come to the aircraft if time permits.
If using the camera on you mobile phone please switch it to "flight" mode.
Want a flight that doesn't match anything you've seen here?
Please ask – We try to accommodate most requests.